Before visiting NLS
All physical material from the Manuscripts Collection is read in our
Special Reading Room
at the National library of Sweden in Stockholm.
Read more about planning your visit
here
.
What do I need to request material?
You need to know:


The materials main title which you find at the top of the archival description (ex. "Robert Brobergs samling" (Samling= collection)
The specific unit's reference code (ex. SE S-HS Acc2017/23:1:1)
The specific unit's title (ex. Brev till Robert Broberg - Privata brev).
You can find the information in the archival description. Place the pointer on top of the tree view menu, then click on the unit you are interested in.
Learn more about how you search for archival descriptions in Arken on our help page Search Arken.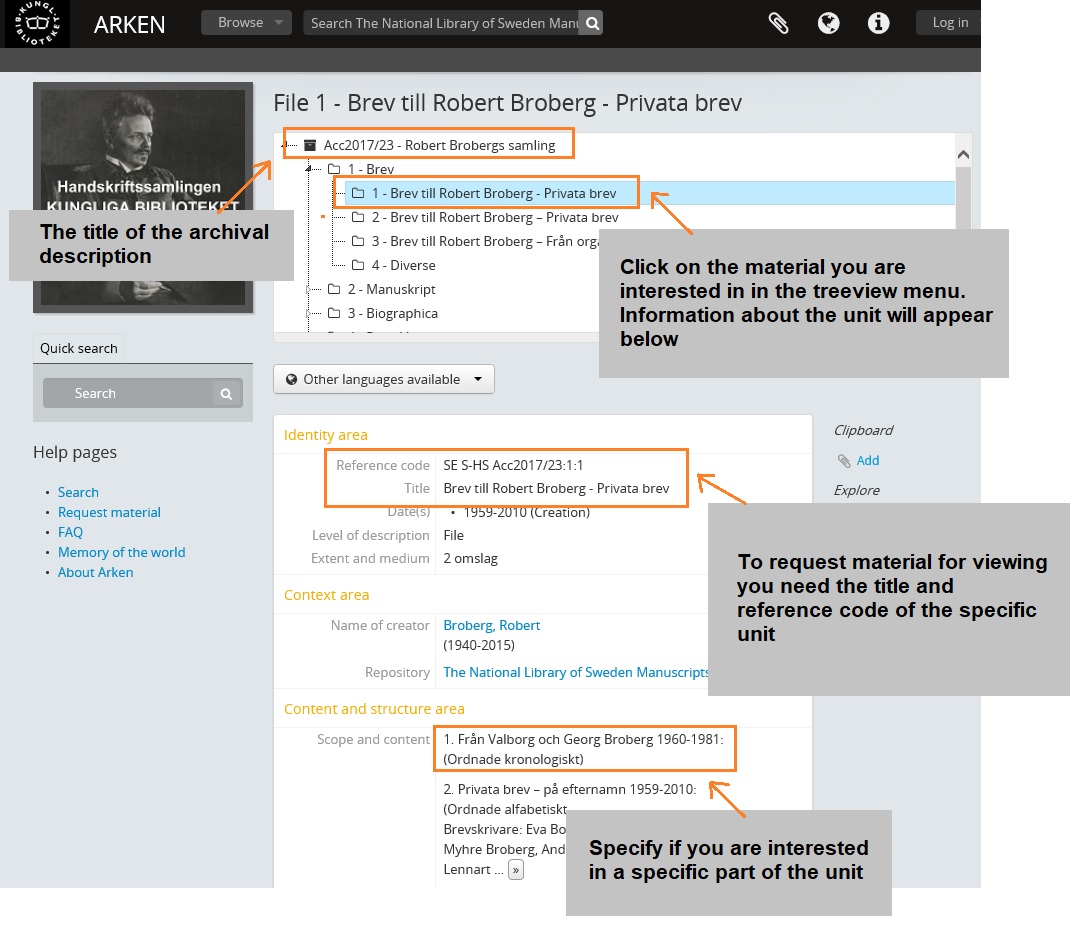 Other search services for KB's manuscripts
Parts of the older holdings of the Manuscripts Collection are only catalogued in a card catalogue and are not searchable in Arken. Instead you can find a digitized version of the catalogue in
•
The Manuscripts collection's nominal catalogue
. (In Swedish only)
Large parts of the older letters are also searchable in
•
The manuscripts collection's correspondent register
which is part of the National Archives of Sweden's letter database.
Hand in your request at NLS.
The fastest and easiest way to request material from the Manuscripts Collection is to fill out and hand in a physical request form at the information desk in the Special reading room.
Here is an example of how a filled out form looks like.
Only one request per form.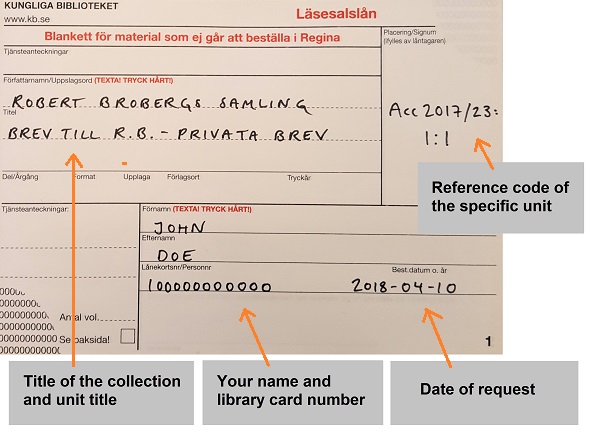 The Manuscripts Collections delivery times
September-May: Weekdays at 10.30 and 14.00, as well as Wednesdays at 16.30.
June-August: Weekdays at 11.00 and 14.00.
Requested material is generally available within an hour, but when busy it may take longer.
Pre-ordering from home
If you are traveling to visit NLS and/or want to ensure that the material you want to request for viewing is available on a specific day, you can use our
pre-order form
. (In Swedish only)
Observe that the pre-orders (a maxinum of five) have to be sent in at least three days before your visit. This is so we have time to get in contact with you and ensure that the material can be made available at the requested time.
Below is an example of how a pre-order form is filled out:
Restrictions to access
Manuscripts may be restricted from access based on their physical condition or value. Instead of the original you will be referred to a digital copy, a facsimile or a microfilm. If you for a specific reason need to access the original you can apply for special permission. Contact the Maps, manuscripts and pictures division by email: hkb[at]kb.se
Material from the private archives may also be restricted from access. Contact the Maps, manuscripts and pictures division by email: hkb[at]kb.se to find out more about access. More recent private archives may also be restricted by
Copyright
.