Different collections, different ways to request material
How to request material for reading is different depending on which repository the collection belongs to.
Click on the repositories below to go to the respective order form and further information about routines for requesting material (Currently only in Swedish):
Request Private archives from the Manuscripts collection
Request Artist´s archives in the Pictures collection
Request Special Book Collections
Note! The archival documents from Filmarkivet is currently not available to order.
Below is an example of how a pre-order form for the Manuscripts collection is filled out:
Before visiting the National Library of Sweden
All physical material found in Arken is read in our Special Reading Room at the National library of Sweden in Stockholm.
Read more about planning your visit here
.
What information do I need to request material?
You need to know:
* The
archival description title
which you find at the top of the archival description (ex. "Robert Brobergs samling" (Samling= collection)
* The
reference code of the specific object
(ex. SE S-HS Acc2017/23:1:1)
* The
title of the specific object
(ex. Brev till Robert Broberg - Privata brev).
You can find the information in the archival description. Place the pointer on top of the tree view menu, then click on the unit you are interested in.
Learn more about how you search for archival descriptions in Arken on our help page Search Arken.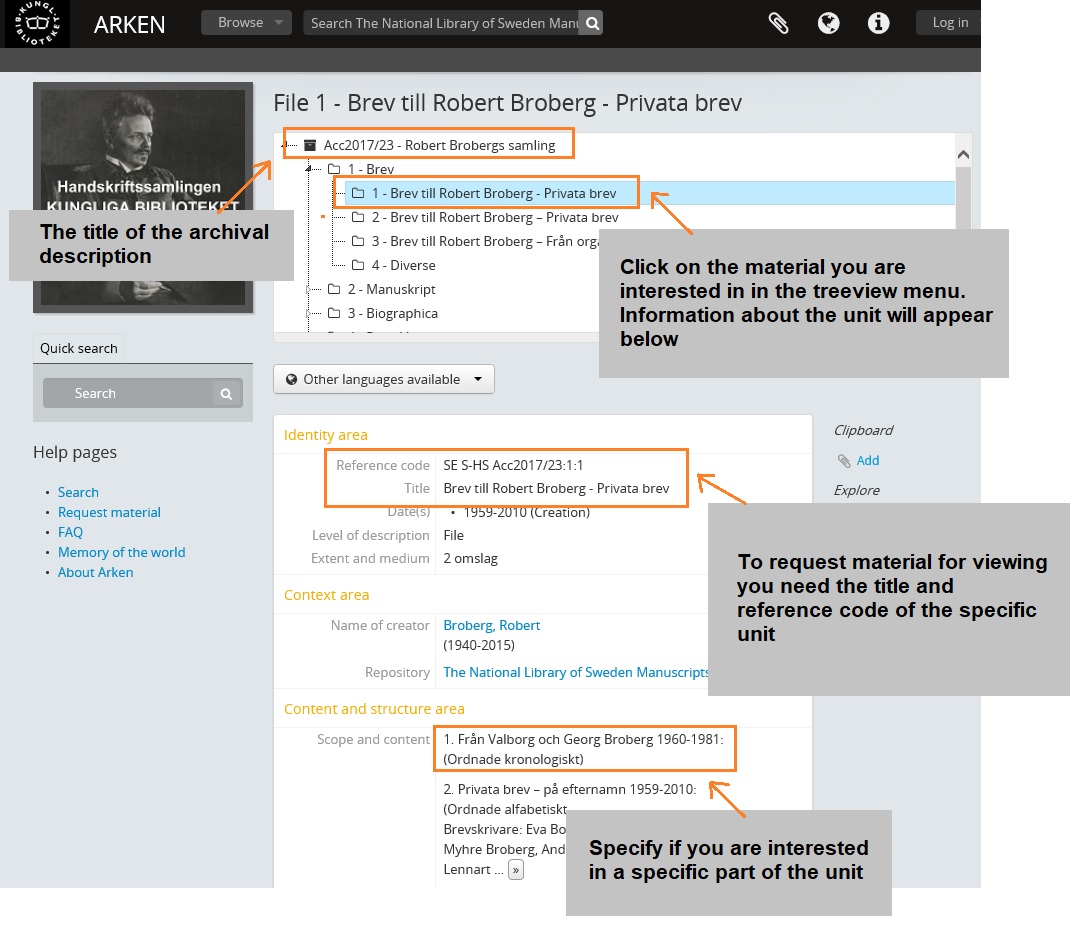 Restrictions to access
Material may be restricted from access based on their physical condition or value. Instead of the original you will be referred to a digital copy, a facsimile or a microfilm. If you for a specific reason need to access the original you can apply for special permission. Material from the private archives may also be restricted from access.
Contact the repository
to find out more about accessing the material.
More recent private archives may also be restricted by
Copyright
.